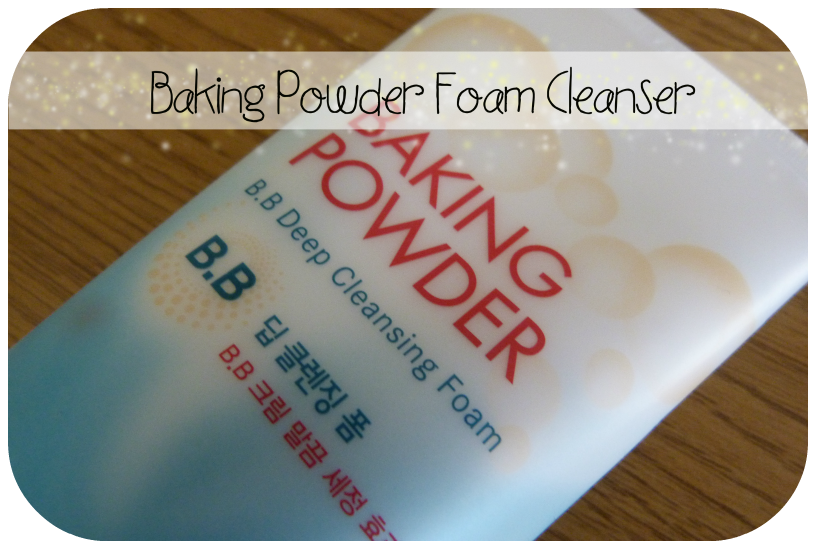 1st product of my brand new skincare regime woohoo. I've chosen this particular product as I want to attack my pores full on, and wage war against dirt and grime using the exfoliating power of the baking powder! Any good? Read on to see my review.
When I was deciding which cleanser I needed for my personal skin woes, I chose this Baking powder foaming cleanser.
Firstly, my skin texture is terrible and not smooth at all so I wanted something that would gently exfoliate away the bumps whilst cleansing.
Secondly, my pores are just so huge and were in desperate need of a sebum & blackhead clear out, and the baking powder seemed the right type of exfoliant to get in there and flush them out - hopefully smoothing out my pores as it goes a long.
After trawling through some reviews on this cleanser, I read a lot that this was pretty drying on peoples' skin, but because I have quite oily skin anyway I didn't see this as a problem. I also went for this due to my love of BB creams, and this cleanser is specifically made to deeply cleanse your pores to remove all traces of your BB cream.

There are a few other items in this Baking powder range:
1. Baking powder crunchy Pore scrub
2. Baking powder pore cleansing cream
3. Baking powder pore cleansing powder wash
4. Baking powder pore cleansing tissue (I think these are facial wipes!)
5. Baking powder bubble cleansing - moist

The facial wash that I've purchased is deep cleansing, but you can get the normal baking powder cleansing foam, or the baking powder cleansing foam moist - which prevents any dryness and keeps your skin moisturised.
I bought this 150ml tube from eBay for £5.93 - a third of the price of my Clinique liquid soap cleanser.
Personally, I think the price is great, and I wouldn't begrudge spending this much on it again when I need to replenish my stock.

It has a 100% Natural Fragrance, is pigment free and dye-free too!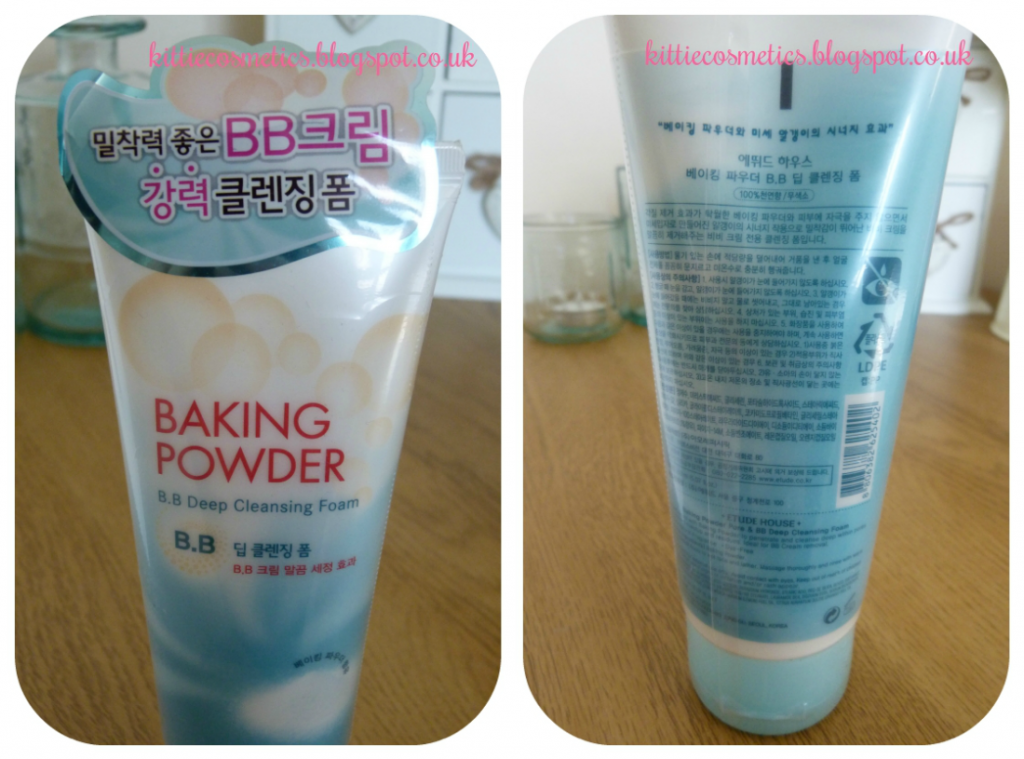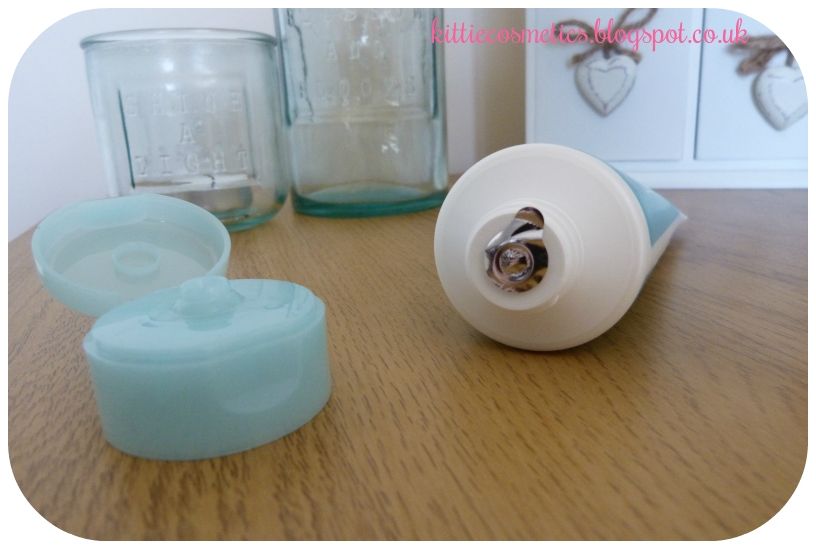 Claims
Well...it only really claims to do 1 thing! To penetrate and cleanse deep within pores to remove makeup and residues - Ideal for BB cream removal!
I like the packaging for this cleanser - because the packaging and colours look bright and fresh, it gives me the impression that this is how the product will affect my skin, and make it bright and fresh too :)
The tube is nice and soft so it is easy to squeeze out the product, and the lid is sealed with a little tear off foil protector.
Here is the cleanser freshly squeezed, and on my face mid wash.
The cleanser comes out of the tube quite thick and is white in colour. It has a nice shiny effect to it, hard to describe but a little like pulled candy. When you look at a mint humbug for example, and the white parts seems to be silky and shiny. This probably makes no sense :P
You just apply this to wet skin and get your cleanse on! It foams up easily and you can really feel the little baking powder particles gently exfoliating. The foam thickens up and turns to a more creamy texture after rubbing for a while, but is remedied with a little splash of water.
Now here are some pretty gross pictures of my skin close up. Ew.
I wasn't expecting any visible results from my first wash, but as you can see on these before and after photos, my skin does look brighter and the texture seems just that little bit smoother?
Now can this stuff remove make-up? Yes is can, very well too.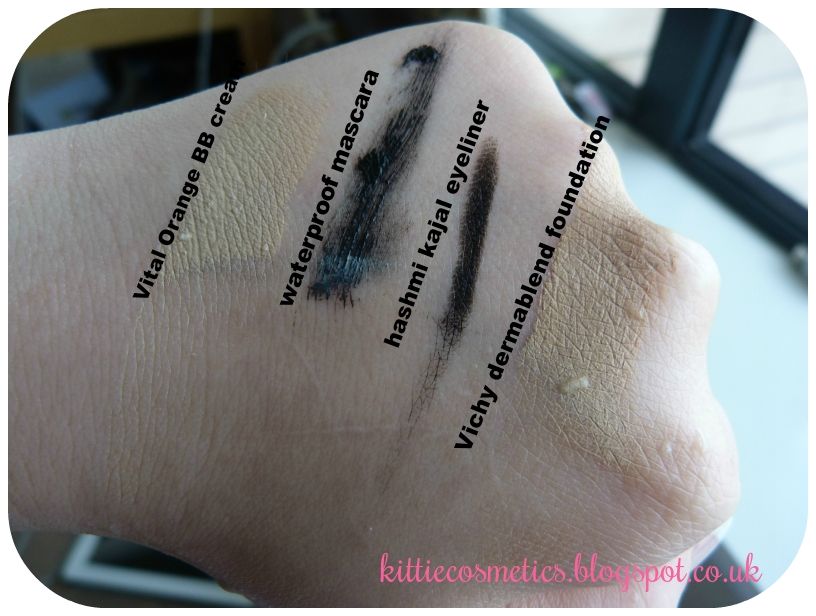 I used my Skin79 Vital orange BB cream because this stuff is meant to be great for removing this stuff, a basic waterproof mascara, a hard as hell to wash off Kohl eyeliner, and the Vichy dermablend corrective foundation, which is also a terror to wash off.
This is after a teeny pea sized amount of cleanser and about 20 seconds of gentle rubbing. It has cleared off most of all the products, even most of the eyeliner which is the toughest of all these products. After a full wash, all of these products were 100% removed.
I have used this to remove eye makeup fine, but some people may find this too harsh for them and their eye area, and it can sting if you actually get it into your eyes. If this is a worry for you, I would just use your usual make-up remover on this area.
Overview
Colour: White
Scent: The smell is amazing! Very light and citrusy, but smells natural and not synthetic. This will be down to the lemon and orange peel oil listed on the ingredients :)
Texture: Light and foamy, slightly gritty but feels really nice on the skin

Effect on Skin: Smoothed texture slightly, freshened up and slightly brightened skin. Easily removes make-up.
Negatives: None!
Usage: I squeeze a small amount into my hands and add a splash of water before gently rubbing on my face in upwards circular motions - focusing on my larger and most clogged pores. I clean for about 1 minute, then rinse off with clean water.
This is the first cleanser that I've used that gives me that squeaky clean feel which I absolutely love. Despite the squeaky clean feel, I don't feel that my skin has been stripped of anything and I haven't experienced any tightening. The smell is a big bonus too because I love citrus scents, and I think the fresh scent helps with the fresh feeling effect. I still have a lot of clogged pores but I think with persistent use, the product will really help to clean these away and to leave me with fresh clear skin, and hopefully reduce the amount of pimples that rear their ugly heads! I don't think this has the capability of smoothing my skin completely, but I believe this is only achieved by harsher products which I don't want to go back to, this is really gentle and much better for my skin. Would I buy it again? Definitely!
RATING: 5/5
Have you tried this product? Do you have a favourite blackhead fighting cleanser?