Hiya lovely readers! Today I have another random day off work, courtesy of having to work this saturday - oh the joys.
My boyfriend has gone out to get some shopping for tonight's tea and has left me to my own devices, and what better to do on my day off than to have a lovely pamper! I've decided to use some homemade natural products for today so read on to see how I've treated my skin.


I always try to use products with as many natural ingredients in as possible, but it's not always do-able, especially if you want certain benefits which require chemicals to achieve. I'm not saying these chemicals are a bad thing as I will try anything to keep my skin looking fresh, supple and wrinkle free, but sometimes it is just nice to give your skin a little natural treat.
Today I just wanted to freshen my skin, smooth it out and give it a little moisture boost whilst fighting pimples, and I did this by making my own simple facial scrub and face mask - most of the ingredients you will already have or you can pick up really cheaply from your local supermarket.

Here are my little product mixing containers - so cute!! I got these ages ago from a magazine subscription with plates, mugs, milk jugs and all sorts, they are all ceramic too :)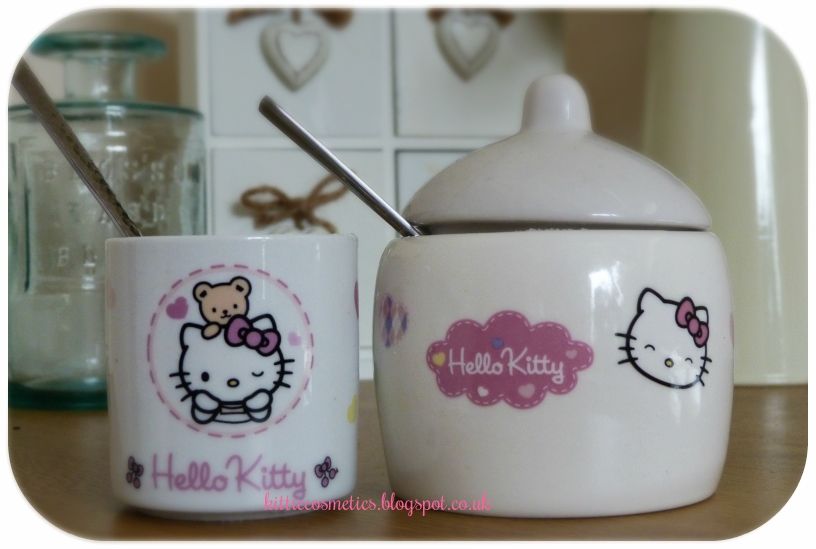 white sugar

Green tea

90% tea tree 10% aloe vera oil

Oat bran

Plain white flour

Honey:

According to the national honey board, honey contains all sorts of vitamins, minerals and antioxidants. It also has a great ability to retain moisture, and for spot fighting, has antiseptic and antibacterial properties.

Sugar:

Cheap, and the best natural exfoliator in my opinion!

Green tea:

Contains antioxidants and high levels of Polyphenols. These are a class of bio flavinoids, which been shown to have antioxidant, antibacterial, and antiviral properties.

Oat bran:

Gentle exfoliator and hypoallergenic - great for people with sensitive skin.

Flour:

Cheap and good binder for the face mask - helps make into a workable paste.

Tea tree and aloe vera oil:

Tea tree has Antiviral, Antibacterial, antifungal and antiseptic qualities, and aloe vera is great for soothing red and irritated skin.

A bit about tea tree oil.

Some investigations suggest that tea tree oil has beneficial medical properties when applied topically, namely antiviral, antibacterial, anti fungal and antiseptic.

The oil can be used to treat skin troubles like acne, and 5% tea tree oil has shown an effect similar to 5% benzoyl peroxide. Although the tea tree acts slower than the benzoyl peroxide, there are significantly less side effects.

Tea tree oil can also be used to treat athletes foot, dandruff, head lice and yeast infections to name a few.




*PLEASE NOTE*

Before using tea tree and aloe vera oil, it would be best to read up on these products and test them on an inconspicuous area. Tee tree oil is toxic if swallowed and deadly to pets, and people can experience allergic skin reactions to the oil. I won't be liable if anybody uses these products after reading this post and has a negative reaction.

1 tbsp natural honey

1 tbsp plain sugar

Few drops of green tea

Bits of the tea from the tea bag

1-2 drops of tea tree and aloe vera oil

Sprinkle of oat bran

After mixing the sugar, honey and oat bran together (in no particular order), I add 1-2 drops of the tea tree and aloe vera oil. Lastly, I mix in a few drops of green tea to thin the mixture until I get the right consistency, and a pinch of the actual green tea out of the tea bag.

After cleansing with my Etude House baking powder foam cleanser, I apply the scrub liberally and

gently

scrub away for about a minute, paying most attention to my nose. The smell is quite pleasant if you like the smell of honey, and the tea tree smell is hardly noticeable as only a small quantity was used. It is quite gritty and sticky but when water is added during rinsing, the stickiness goes and washes off easily. I then pat my face dry, and my skin is left nice and smooth :)




1 tbsp natural honey

Sprinkle of oat bran

1-2 drops of tea tree and aloe vera oil

Few drops of green tea
Bits of tea from the tea bag

1 tbsp of flour

The ingredients are pretty much the same as the scrub, but now that my pores are open, my skin can soak in all the lovely benefits!

I mix everything together as normal, and add the green tea last so that I can change the consistency of the mask if needed, to make sure it is a nice paste like texture and not too thick. I dampen my skin with clean water, and apply this mask quite thickly all over my face. It can be quite lumpy and textureful (I know this isn't a word :P) which I don't mind, and it actually reminds me a little of lush face masks.

I leave this on for around 20 minutes before washing off - if you leave this on too long, it dries up is quite hard to rinse off.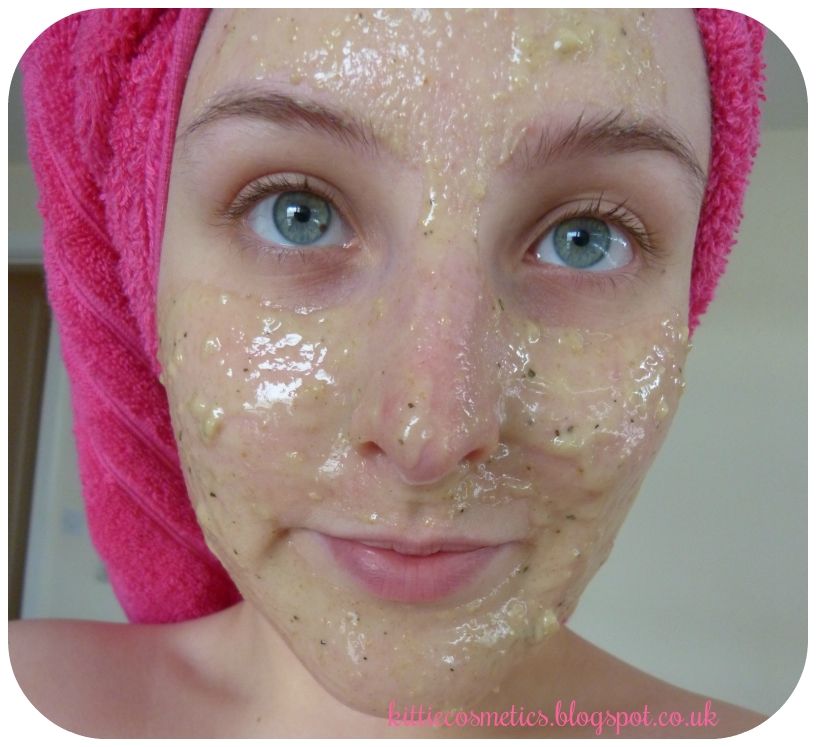 After rinsing off, I follow with my normal skincare routine:- Etude House Wonder pore freshner, Mizon snail ampoule and secret key snail repairing cream.
Voila, there you go, my 2 homemade bargain beauty products. These both work really well for my combination/oily skin, as the antibacterial and soothing ingredients help with redness and spots, and the honey adds some light and natural moisture.
The good thing about these homemade products, is that you can change them to suit different skin types and give your skin exactly what it needs without any detrimental ingredients.
You could add a few drops of your favourite face oil instead of the tea tree if your skin is dry, you could use milk instead of green tea for the lactic acid, or you can change the sugar to brown sugar! You could also warm up the scrub in the microwave to really open up those pores, and put the mask in the fridge so it is cool and refreshing for tired or irritated skin.
Now I must be off to do a bit of cleaning, must do something productive in the house today!

Do you make any of your own products?