Probably the cutest and most purse friendly lip cosmetics around. Who can resist the fun and adorable bunny bars from TonyMoly!? Certainly not me! Read on to see my review on the super popular and well loved TonyMoly petite bunny gloss bars :)
I've never been a huge fan of lip makeup because I used to use the completely wrong colours, which looked too mature for my complexion and made me look washed out. Now that I've actually got to know my skin tone a bit better, I've ventured out into the world of lip colour and feel much more comfortable wearing stuff on my lips.

I don't suit any dark colours on my lips as this just makes me look so pasty and pale, and just can't make them work at all. I stick to lighter pinks and corals, and on occasions, vivid reds with blue undertones (which helps to cancel out the yellow undertone of my skin!)

Now these gloss bars come in 9 shades, and the £3.68 price tag is a winner for me.
I purchased two of these off eBay in #3 juicy apple and #6 juicy orange. You may notice that the colours don't really correspond to the flavours....and I have no idea why either!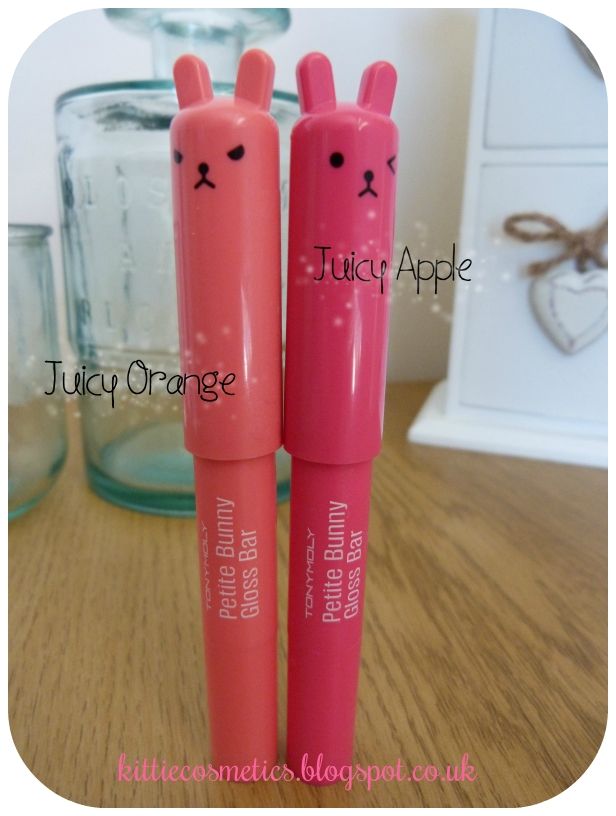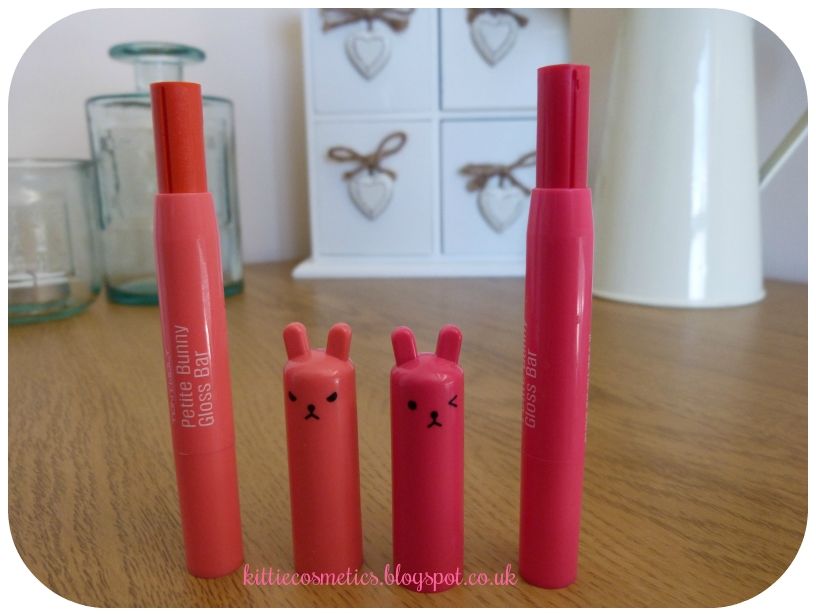 The bars contain berry complex and vitamin E, to protect against moisture loss and make your lips baby soft!
The packaging for these is quite unique and I haven't seen any lip sticks or glosses as cute as these! The lids have little bunny ears and faces on, and each of the 9 colours has a unique expression. I bought these almost solely due to the packaging!!
The container is basic plastic but feels quite strong and pretty decent quality. They are are a really nice size too so you could possibly fit a few in your makeup bag if you want a change of colour throughout the day.
To use the bars, you just twist up the bottom and the bar pushes up but I can imaging these would break if you twisted too far and I don't really want to try this out :P
These swatches are with one swipe over my hand. The colours aren't the most pigmented but I think they do a pretty good job with just one coat!
On the left is the apple, and on the right is the orange - again with one coat.

Overview
Colour:
Not too pigmented, but pigmented enough to give a really pretty pop of colour. These gloss bars are buildable, so if you go over your lips a few more times, you can get a really nice vivid colour
Scent:
Fruity and zingy! They both smell like their corresponding flavours
Texture:
Glossy and creamy. Not sticky like normal glosses!
Negatives:
None
I think these little bars are really great and I have no complaints about them. They glide on smoothly and feel so moisturising, and not sticky at all. The lasting power on these is good too, they don't withstand a meal but possibly a drink or two. My lips feel super hydrated after using these and it really helps with my dry and flaky lips.
I'll be purchasing more of these colours in the future and will do a swatch post so you can see a comparison of all 9.
Do you have a favourite bunny gloss bar colour? what is your favourite lip gloss?