As you all know, Google will be retiring Google reader on 1st July 2013.
Google Friend Connect however, which hosts is the bulk of most bloggers followers, will NOT be retiring so you will still have your GFC followers woohoo!

The future of GFC is uncertain though, and know I don't want to lose any of my amazing readers if one day we do wave it goodbye.
I would appreciate it greatly if you could all follow me on bloglovin' by clicking the image below
:)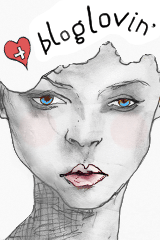 Also, you can easily transfer all your favourite blogs from google reader to bloglovin.
Part 1
❤ Click
HERE
❤ Click Create archive
❤ This will then take you to a page where your blogs will be archived into a file for you
❤ Click download
Part 2
❤ Click
HERE
❤ Click Browse and locate your recently downloaded file
❤ Once selected, choose upload
And that's it!! All the blogs you follow on google reader are now on you bloglovin account so you won't miss out on any posts.

On another note, I have plenty more reviews on the way a long with some more products from eBay that I can't wait to try out and review for you guys - mostly skincare with a few cosmetics thrown in :)

Bye for now xx