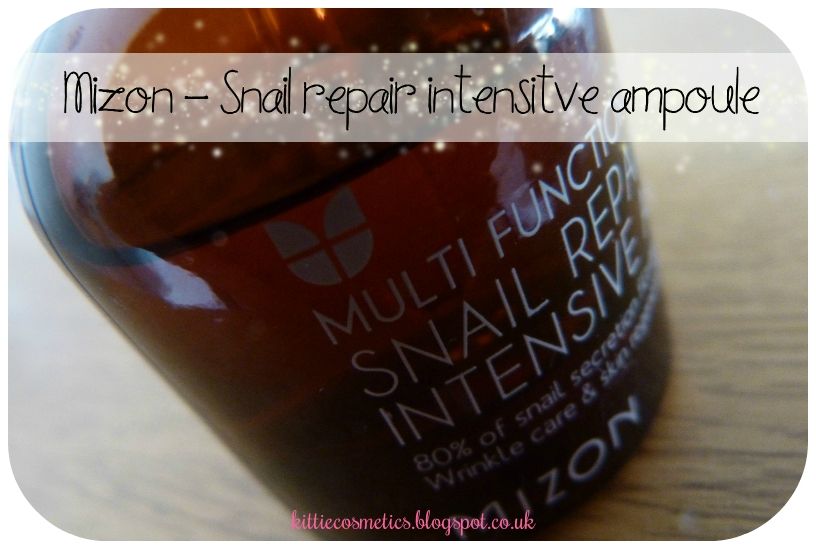 I've been wanting to try this ampoule for a long time and decided this would be a perfect introductory product to Mizon, and who doesn't love a bit of the slimy snail mucus?! I had really high hopes for this product, and to be 100% honest I'm slightly disappointed! I do still like this ampoule though as it has some really nice points too! Read on...
This Mizon ampoule is the first repairing product in my skincare routine and my first Mizon product.
After reading many reviews on this ampoule and Mizon products in general, I went for this in hopes of plumping up my fine lines and helping me out with my frequent breakouts.
As per, I purchased this item from eBay for a bargain at £8.49 with free P&P. As Mizon are a highly reputable and popular brand, I was thrilled at how cheap this was and would happily pay this again if I were to re-purchase.
The basic style and simple white and shimmery brown accents seem to be aimed at a more mature customer, which then in turn makes me think of wrinkle repair and firming...because that's what all mature skin needs right? :)
The box comes sealed with a little holographic Mizon sticker to ensure authenticity, and when you open the box, you are greeted with a rather substantial brown glass bottle and a glass pipette which you screw onto the bottle yourself.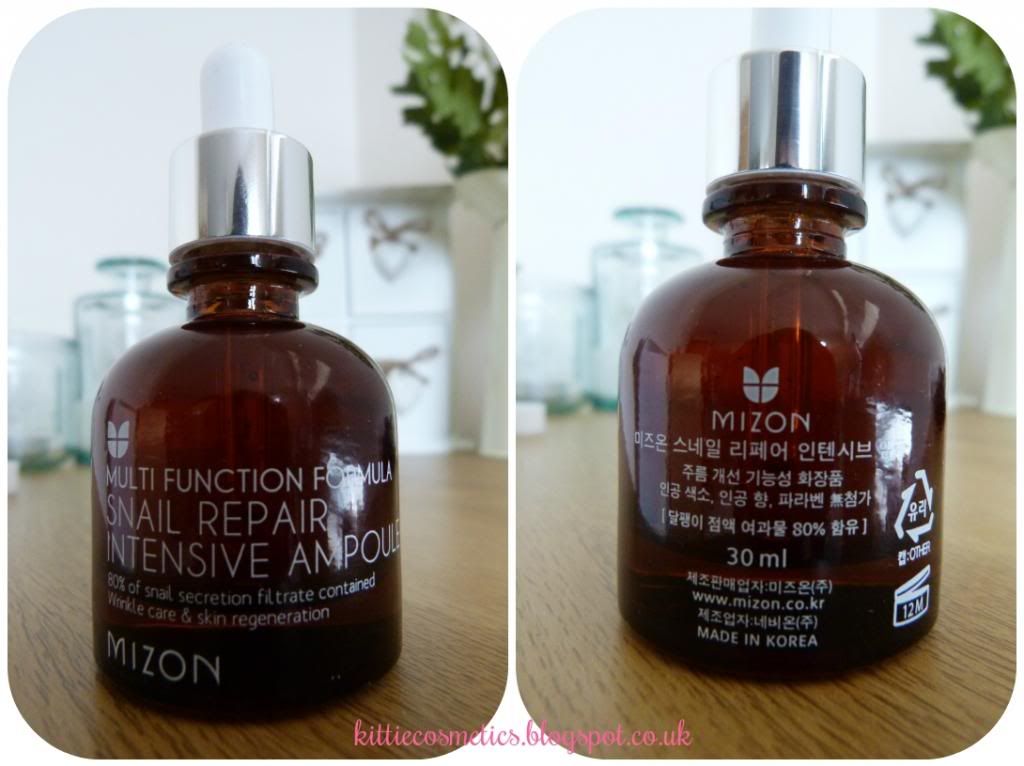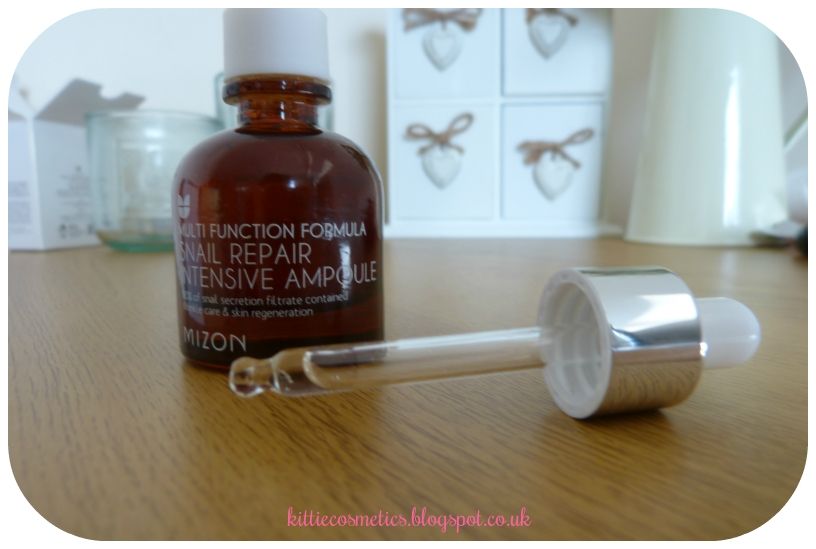 The product comes in 30ml, and although this is clearly stated, I was still pleasantly surprised that the bottle was quite big and not a teeny tiny vial type bottle.
The brown glass adds to the mature and expensive feel of the product, and I really like glass containers for some reason so I'm happy with how this looks with the rest of my products!
Although it's not a particularly heavy item, the glass seems nice and thick and this really shouts 'quality' to me.
Claims
❤ Contains 80% snail mucus filtrate to Improve resilience of tired skin (nice and slimy!)
❤ Cares for multiple skin issues: Troubled skin, dry etc
❤ Wrinkle improvement and firming from peptides
❤ Contains golden thread to help prevent troubled skin (boy do I need this!)
❤ Contains Corni and pomegranate extract to relax and protect harmed skin
❤ Hyalauronic acid and Kakao tree extract to Provide moisture and nutrition
❤ No artificial colour, scent or parabens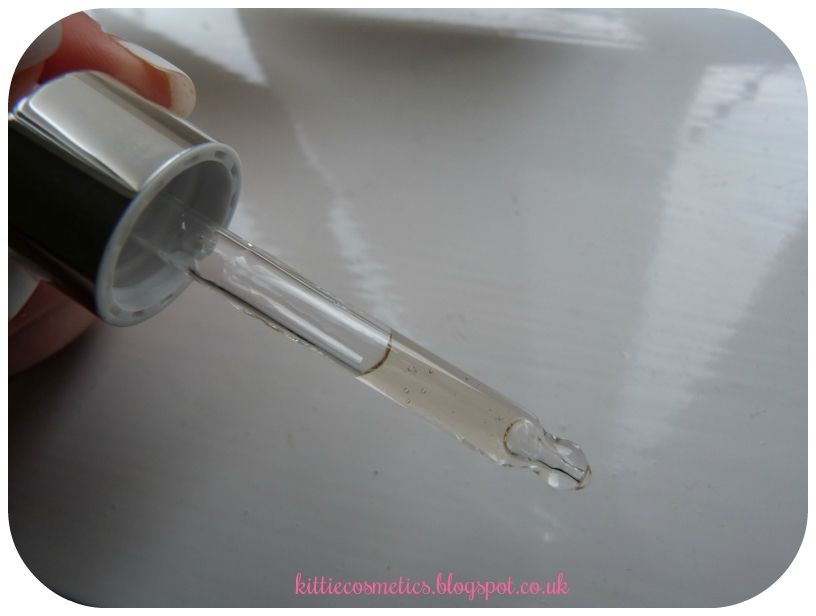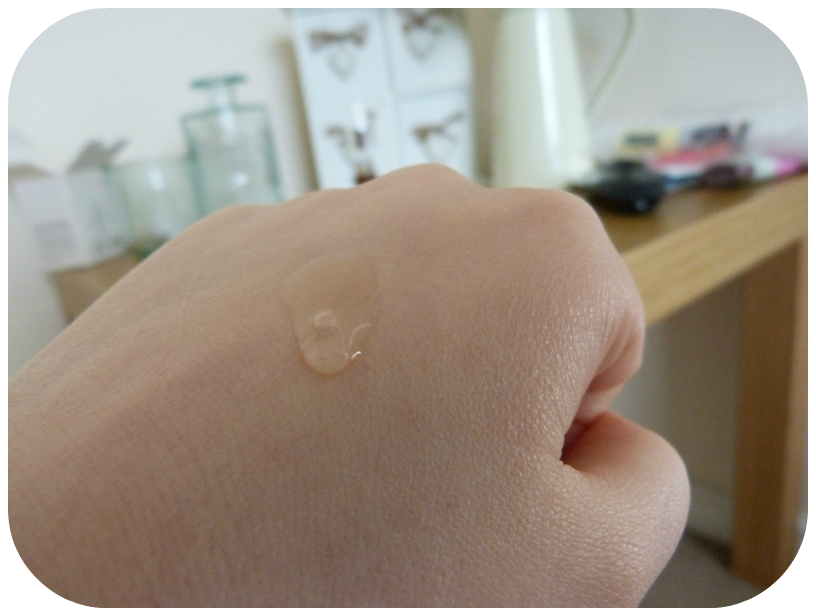 The liquid itself is like a watery serum, but is a little sticky after a few seconds. After toning, I gently rub about 2 drops of the product over my entire face, and lightly pat it in for better absorption. The stickiness is quickly alleviated with the patting, but if you use too much (rookie mistake made by yours truly), then the stickiness stays for ages and feels kind of gross.
Despite the initial stickiness, I still like how light the product is and doesn't feel like my pores are being suffocated. I tend to only glance over my pimple prone areas though, and focus mainly on my forehead where I have pesky expression lines.
I haven't included any before and after photos, as I don't see any immediate effect after application. I do
feel
a difference, but can't see one. On this photo, I am trying to show you the consistency of the liquid - but it wasn't sticky enough for me to pull my fingers any further apart!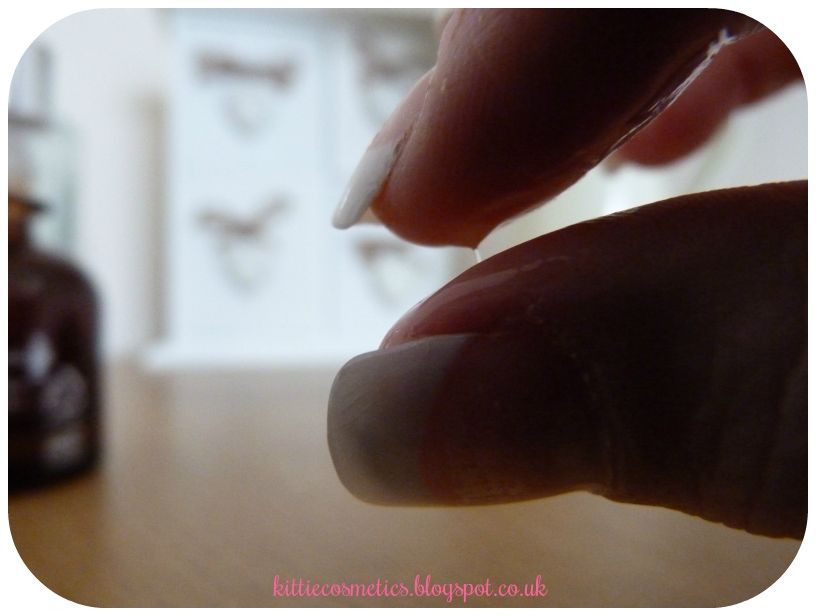 After all the gooey goodness is absorbed, my skin feels quite refreshed and sufficiently moisturised. I would say the moisture level of this is quite high, and although I don't have dry skin, it soaks up nicely leaving my skin soft and slightly plumped.
One of the things I do like about this product is that considering I have really oily skin, my face isn't left greasy and shiny after use as long as I use a reasonable amount - I'm sure it would be a different story if I decided to slather my face in it :P
Colour: Clear champagne-like colour
Scent:
Very mild, smells a little like washing up liquid. I realise this doesn't sound too great, but it's super mild & fresh, and I can't imagine anyone being bothered by it
Effect on Skin:
moisturising, very slight fine line improvement and firming. Slight is still better than nothing :P
Negatives:
No major improvement and has not reduced amount of pimples!
I found that this is great for moisture without being heavy and greasy, and am happy that it is helping with my forehead lines. This could easily (and probably more effectively) work for dry skin as well as oily skin, just by using a little more product.
My skin feels firmer which is quite nice, but I see no improvement with my breakouts - these are still plaguing my face almost daily and I was seriously hoping that this product would help. It has helped to lighten old scars and these heal a bit faster than normal, but I want prevention over action.
I won't give up on this yet though as I still believe it can do more for me, and have ordered the Mizon all in one snail repair cream to use in conjunction with this at night to see if this increases the effects.
On it's own I probably wouldn't re-purchase as there are so many other ampoules out there which have similar claims and I would probably try a more expensive one. However, if it goes well with the cream then I would re-purchase as the price is budget friendly and it is a great little product which I enjoy using.
RATING: 3.5/5

Have you used this ampoule on it's own or with the Mizon cream? What is your favourite serum?