First there was BB, now there is CC! I've tried numerous BB creams, and I prefer the natural and light finish they give in comparison to a foundation. Because of my love for the BB cream, I HAD to try it's successor. Will I be replacing my much loved BB creams? read on to see my experiences with the TonyMoly Luminous Bright aura CC cream :)
Firstly, apologies for the super late post. This has been in draft for 2 weeks or something :S I've been working the late shift in work a lot recently and have been too tired! Anyway....
This isn't the first CC cream I've actually used. I've tried the l'oreal nude magique CC cream and well, I wasn't too impressed at all. Not sure if this is just my new found snootiness towards western products or if it was actually just not for me. I've also tried a few samples but I kept forgetting to take photos to review them so gave up and just bought one from TonyMoly as I really like the brand.
I purchased this product on eBay from one of my regular and reliable sellers for £6.61 and it comes in 30mls. I can't believe how cheap this product is, especially considering there are no separate P&P fees and how good quality the brand is - This makes a happy me, and a happy bank balance :P
A CC cream is like a refined BB cream, which is much lighter on the skin and give an even more natural look, just what us makeup fanatics need :)
They are marketed under a few different names including:
❤colour correction
❤colour control
❤colour change.
No matter what they are called, you can see that they all aim to do the same thing. They still have skincare properties as well as being a cosmetic item, and work by adjusting to your skintone, making your skin brighter and more even.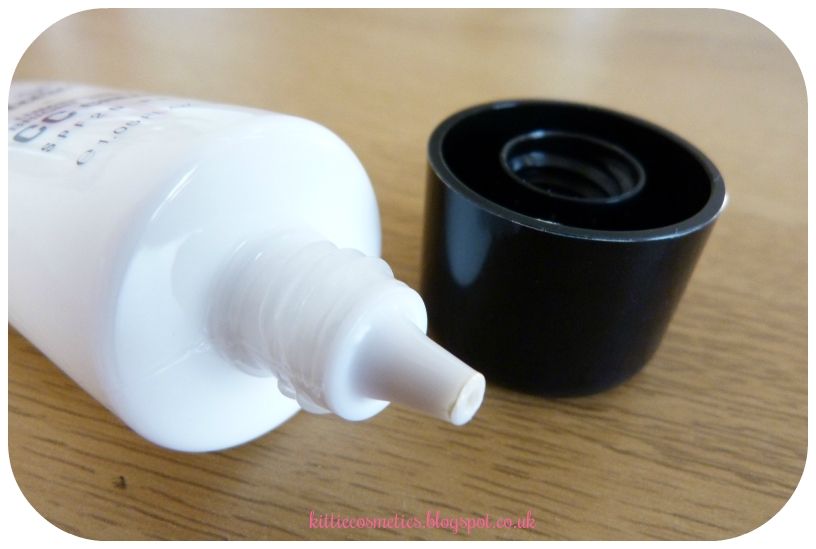 The product comes in a slim white box with contrasting black writing and little sparkle shapes. The sparkles are there to represent the shimmer in this particular CC cream - but I'll go into that a little later. The actual tube is made of quite a hard plastic and isn't the easiest to squeeze. It's fine getting the cream out at the moment, but could be a little harder when I start to run out, but we shall see! It's also quite rounded too, which makes no difference, but feels quite comfortable to hold and just looks a little more interesting. The tube has a very basic nozzle and the lid is a solid plastic screw top. The plain white packaging on this makes me think of bright and radiant skin (if it gives me this, I will love it forever), and overall I think it looks and feels of decent quality. I like! :)
Claims
This CC cream is firstly marketed as an all-in-one product, and offers/acts as the following:
❤ UV protection
❤ Moisture
❤ Primer
❤ Makeup-base
❤ Glittery effect
❤ glossy
❤ 6 free formula - Talc, mineral oil, organic pigment, benzophenone, ethanolamine. Now I realise this is only 5, but I could not find the 6th 'free' ingredient for the life of me :/
❤ SPF 20 PA++
To be honest, I couldn't really find out much more about this product, there is very little about it and most advertisements aren't in English. I would have liked to know a bit more, but I just went for it, I trust you TonyMoly!!!
Ok so this CC cream has a yellowy tone to it, and isn't white like a lot of white CC creams on the market which have the little beads of colour that burst and adjust to your skin tone.
It isn't thick or watery really, and feels a little like an essence, that somewhere 'inbetween' thickness. It does feel nice and light which I love about CC creams, and it doesn't clog up my crater pores like almost everything else!!
As briefly mentioned before, this CC cream has sparkles, pretty little sparkles! Now I NEVER buy any facial cosmetics containing bits of glitter, but this product does have some in it. The particles are really tiny specks though and to be fair to the product, it looks quite pretty and doesn't make me look like I've dipped my face in a big bowl of glitter.
I couldn't catch the glitters in any photos though, so I guess this shows how subtle it is, or shows how bad I am at taking photos :P
It doesn't dry completely matte which is good for me aesthetic wise as I prefer a slightly dewey look, but it doesn't give a glossy finish either - I guess you could say matte but moisturised? If that even makes sense haha.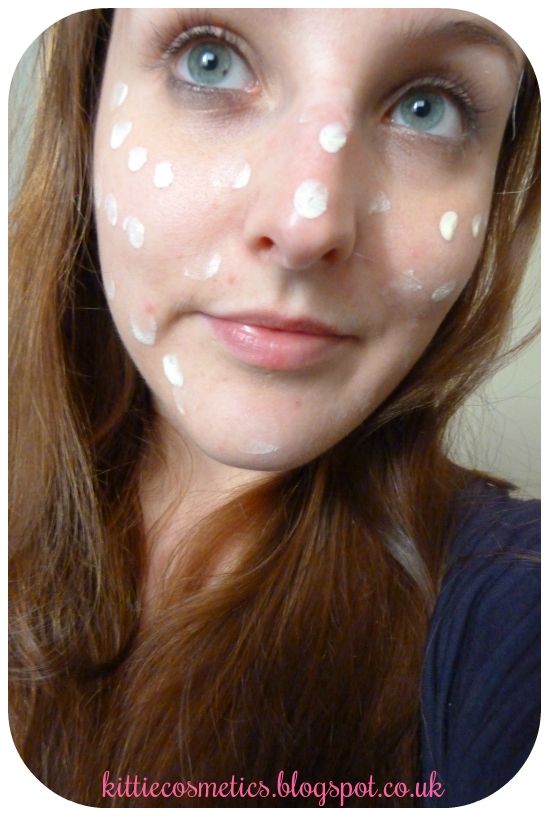 Overview


Colour: Light creamy yellow
Scent: Strong florally talc like scent (but talc free!). Not unpleasant but the scent does linger for a while, so not for people sensitive to strong smells!
Effect on Skin: Inbetween dewey and matte, but can depend on how much product used
Negatives: Seems to accentuate dry flaky skin, hard to find information about the product.
Application: Dot it all over my face, then blend by dabbing it using blending sponge until fully blended
I am quite fond of this CC cream at the minute, you can see in my before and after photo the big difference in brightness and I think it makes my skin look more clear with a healthy glow. It feels practically weightless and doesn't leave a greasy residue which is handy as my skin needs no more grease thank you >.<. The coverage of a CC cream is very minimal, and this one is no different. They are only meant to give you a natural finish, but because this product brightens up my whole face really well, I think there is less focus on the blemishes and scarring and my skin tone looks more even. This doesn't sink into pores/lines but really does highlight any dry patches you might have, and made the dry bits on my forehead really stand out and looked awful - even pre-exfoliation didn't help. I wouldn't recommend for people with dry skin, as it isn't the most moisturising either, but works well on my oily skin.
It is a nice simple base for foundation or BB cream, or I sometimes use it over my BB cream to brighten up my cheeks and eyes.Would I re-purchase? Maybe, but TonyMoly does a 'Live aura' and a 'pure aura' CC cream too and I'd like to try both. I won't throw away my bb creams just yet!
RATING: 3.5/5
Great price, great quality. Marked down due to the issue with dry skin.
Have you tried this or any of the other TonyMoly CC creams? Do you prefer BB or CC?