Today I'm going to be reviewing the Secret Key Snail + EGF repairing cream for you guys. As you will know this isn't the first snail product I've tried, but I'm currently loving experimenting with snail products and will try almost anything containing snail mucus. This certainly isn't the moisturiser for me, but read on for the review :)
Before I start the actual review, I apologise for the image quality! I took these photos ages ago and I just couldn't get the lighting right so they look a bit dull!
This is the third product I've tried containing snail mucus, after my Mizon snail ampoule and my Skin79 snail repair BB cream. I needed a good moisturiser that wasn't too heavy, but heavy enough to add sufficient moisture after cleansing and to help repair the numerous skin issues I have, including breakouts, dry patches,scarring and fine lines.
From what I've seen, here are the rest of the available products in this line:
❤Snail + EGF Repairing Gel cream
❤Snail + EGF Repairing Essence, Emulsion & Toner
❤Snail + EGF Repairing BB cream
❤Snail + EGF Repairing eye cream
❤Snail + EGF Repairing Foam cleanser & soap bar
❤ Prestige Snail + EGF repairing healing ampoule
I didn't actually read many reviews on this product, but wanted to try this brand as I hadn't tried anything from them before, and their products seemed to have a decent reputation and a good price. I used this product for 4 weeks so I can now review this product knowing what this has and hasn't done for my skin respectfully.
I picked this 50g tub up from eBay for a little over £6 with free P&P. You can't really complain at that price, even some of the most basic facial creams can cost that much, so pretty happy with the price! 50g is a decent amount too and has lasted me ages. I have stopped using this product now, but still have over 3/4 of the tub left.
Let's start with the packaging. Secret Key products don't have that cute, bright and attractive packaging that a lot of Korean items have, making it appear aimed at a more mature market. The colours used are almost identical to the Mizon ampoule I reviewed previously, using a plain white box with a brown top and accents. I still like this style of packaging as it is clear and to the point, and doesn't need to have pretty pictures on it. It does have a cute little snail on the front, top and back though :)
The tub itself is like a matte, pearly off-white colour with a brown lid, and has another cute shiny gold snail on the front. I like the plastic white disk inside the tub as this keeps anything getting into the cream and stops it going all over the lid, although after a few days I had to remove it completely as I struggled getting it off every time and it was getting on my nerves :P Despite the plastic tub being decent quality, it does feel cheap overall but I don't mind, I guess it just reflects the price paid. It's what's inside that counts for me most, but a spatula would have been nice!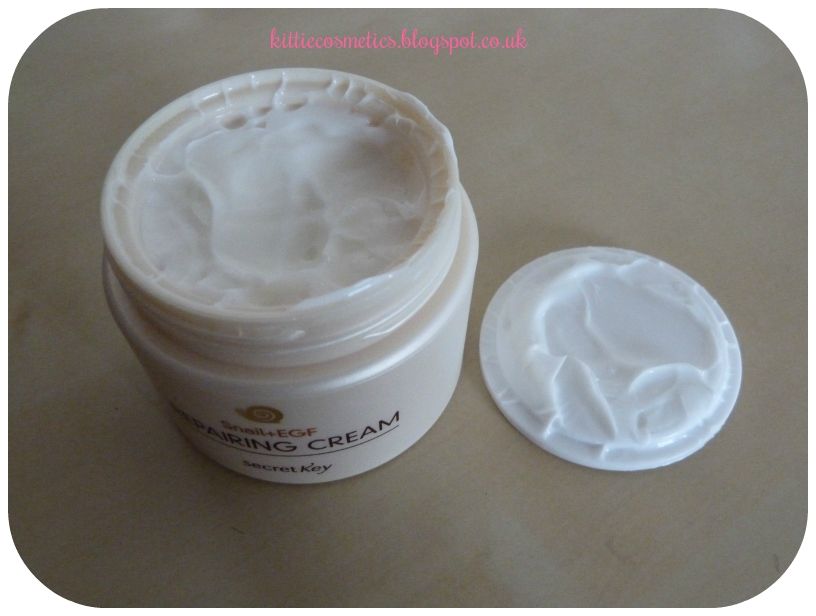 Main Ingredients


Snail Mucus - Tremella Fuciformis Extract - Rice Extract, Caviar, Human oligopeptide - Macadamia Seed Oil

Claims
❤ Repairing trouble cream
❤ Stimulate skin stability
❤ Hyaluronic acid to provide skin vitality
❤ Great for all skin types
❤ Brightening/moisturising/protecting/restoring
❤ Maintain elasticity
❤ No artificial colour, scent or parabens
❤ EGF* to restore healthy skin
EGF*


EGF for anyone unsure, stands for Epidermal growth factor. It is a type of protein formed in the body, which stimulates cell growth. Sounds fancy eh!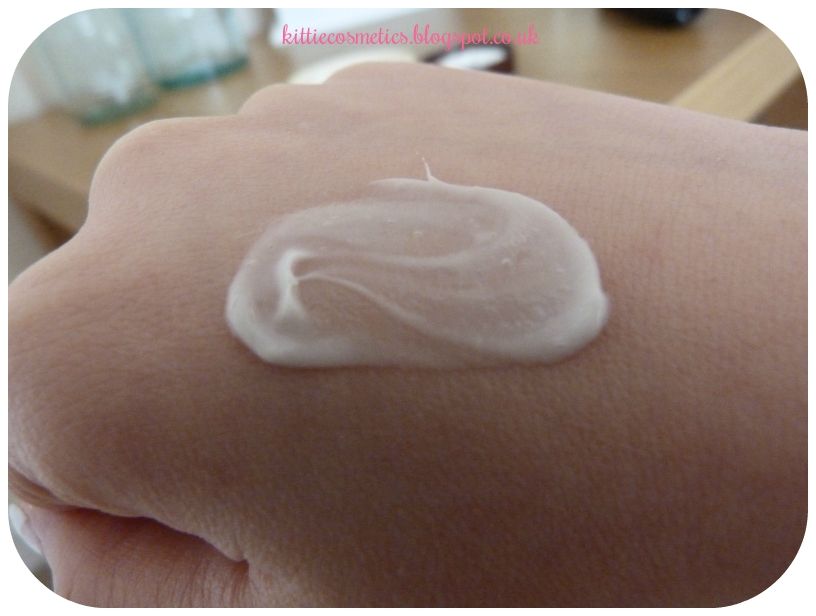 I could tell immediately before even touching the product that it was quite thick and possibly too heavy for my skin. On initial use, it didn't feel too bad, but after rubbing it in I found it didn't work well with my skin at all! I had to rub it in really quickly or it would get really hard to massage the last bit in without tugging my skin. A little goes a long way with this and you only need a little to spread on your whole face. I would dot a tiny bit on my nose, forehead, each cheek and my chin and then massage it all over. There is no sticky residue left by this cream which is a bonus, but for me it took around 5-7 minutes to fully soak in. I hate having to wait for things to soak in, especially if you are short of time.
I haven't included any before and after photos. There is no obvious effect or immediate improvement, and the camera couldn't capture anything noticeable.
Colour: White
Scent: Lightly perfumed fragrance - inoffensive and quite pleasant
Effect on Skin:
Moisturising, helps with dry patches
Texture: Thick and creamy

Negatives: No great improvements
, no SPF, unsure on % of snail mucus!

After a month of using this cream, the dry patches on my forehead have improved which is nice! It is very moisturising and I'll admit my skin felt soft and plumped throughout the day, especially in the morning after applying it before bed.
I was not a fan of the heaviness of the cream, and wish I had of tried the gel instead - the cream is supposedly good for all skin types but it is just too heavy for my oily/combination skin. Despite my skin feeling soft, the amount of time it took to soak in is too inconvenient for me, and I hate it when you can feel the products just sitting on your skin. Lastly, there was no improvement on my pimple scarring, and although this didn't make me break out, it didn't help whatsoever with new pimples joining the party.
I would recommend this for people with dry skin certainly, and anyone who wants soft and nourished skin, but would say to people with oily skin to give it a miss as it has no suitable oil control.
I sadly won't be re-purchasing this product, which is a shame because it's so cheap!!! I don't hate it, but it just isn't for me. I am currently using the Mizon all in one repair cream and love it to bits so will probably go for another Mizon cream to use at night. I would like to try the gel cream though for daytime use so look out for a review of that in the future.
I'm trying to tempt my boyfriend into the wonderful world of skincare, and he has dry skin so I might use it on him so it isn't wasted :P