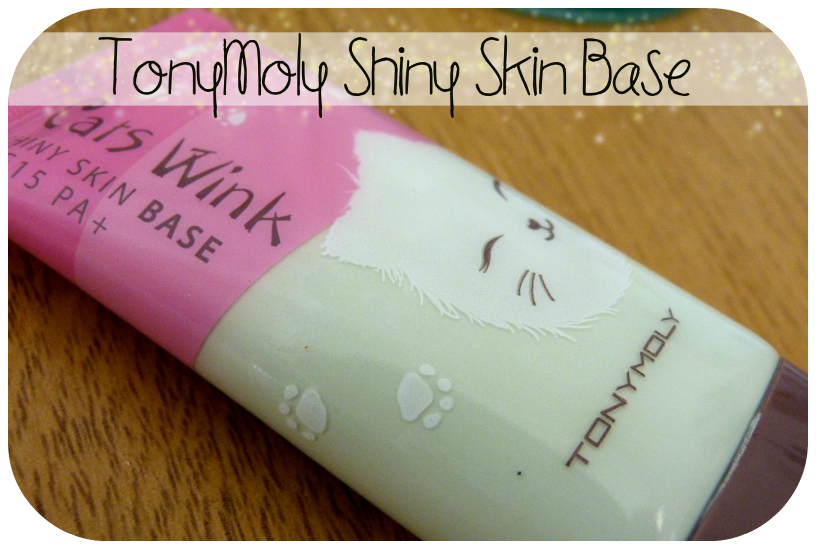 My skin suffers terribly from redness! No matter how good condition my skin is in, I can't seem escape the redness in my cheeks and on the edge of my nose. I have purchased this product hoping to combat this and hopefully even out my skin tone. Plus it has a cat on it...I'd buy anything with a cute cat on...but I will be reviewing the product, not the cat.
Enough rambling, this will get me nowhere!! read on for my review :)
I've been looking for a nice base for my makeup that covers my redness effectively, so that my skin looks nice, bright and even. Now there are so many bases available in a selection of colours so it is quite hard to choose the ideal one without being able to test to products. The TonyMoly Cats wink shiny skin base comes in the following colours:
1.Peach
2.Mint
3.Lavender
The peach is sort of like a universal colour for any skin type and will mildly cover redness and adjust your skin tone.
The Mint is specifically for redness, as green cancels out red! This is the one I have purchased.
The lavender colour does the same thing as the other two, but is made to cancel out yellow tones.
As formulas go, this is nice and mild - suited to and targeted at young skin.
It contains some of these nice, fresh ingredients for your skin: Green Tea Extract,Purslane Greens Extract, Beech Tree Extract, Broccoli Bud Extract, Cone Leaf Extract, Wheat Leaf Extract. The base is free from Petrolatum, Benzophenone, Triethanolamine, mineral oil and pigment (not exactly sure what this means exactly) - so if you have concerns about any of these ingredients, this product is great for you.
It is also SPF15 PA+ which is fine for a base if you are putting a foundation or BB cream over the top which
SHOULD
have it's own SPF anyway.
It comes in a 30m tube which I picked it up on eBay for £5.16, another purse friendly price, so if it isn't perfect then no biggie!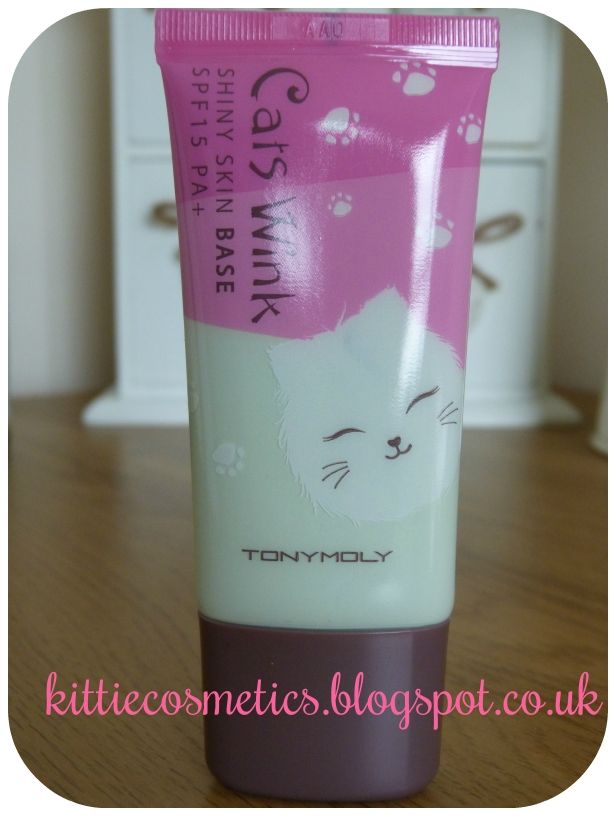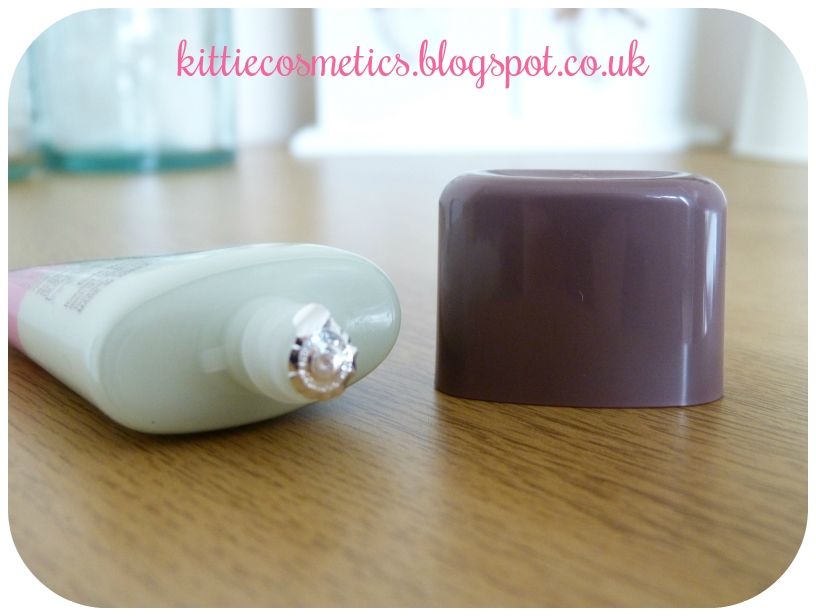 I think the packaging is adorable! This product is from the Cat Chu range by TonyMoly, and follows suit with a cute kitty on the front - I'll be honest, this was the main reason I bought this, for the kitty. I need to get a life.
It is a nice size and fits easily in your bag, and the colours are really pretty and light. This product is aimed at the younger market and I can see how this type of customer would be attracted to it.
The thing I don't like about the packaging is the nozzle. I find that this product always leaks from the nozzle, so whenever I open it, the cream has collected in the lid >.< If you leave it lid-less on your table or wherever, it will just leak out (I learnt the hard way *cries*) I do like the foil seal though, can't say no to a bit of hygiene precaution!
Claims
This product claims to improve your skin tone and help your makeup last longer, which you would normally expect from a base. It also protects from UVA/UVB rays and gives your skin a smooth texture.
Here is a swatch of the cream on my hand, and below the product in action.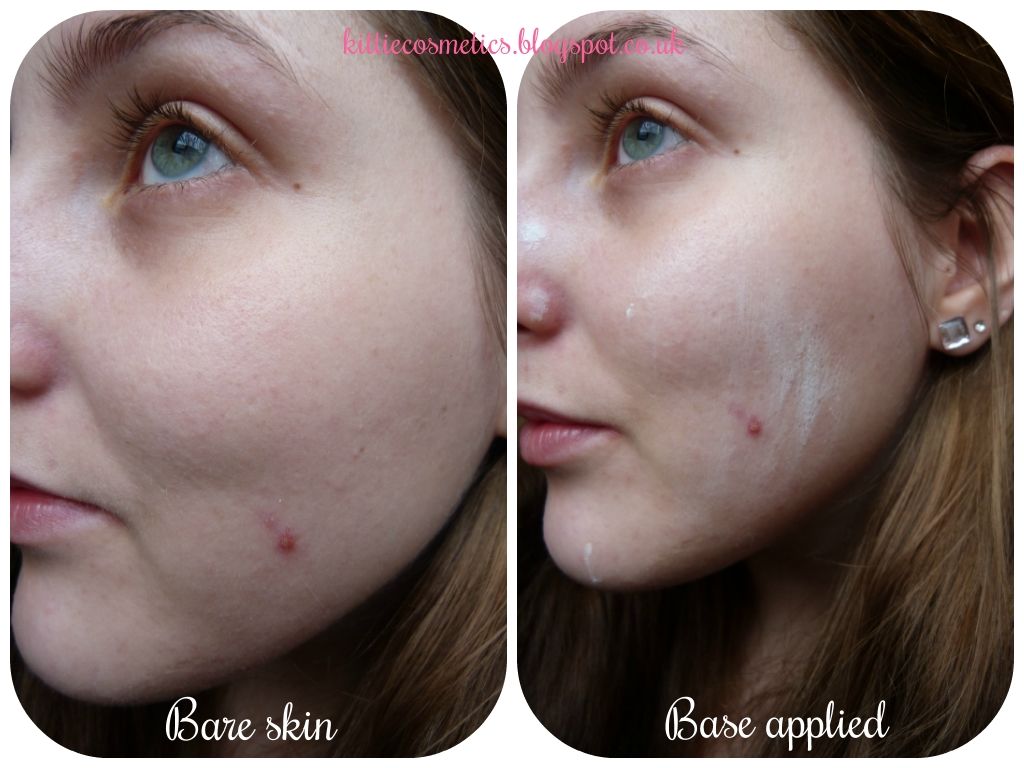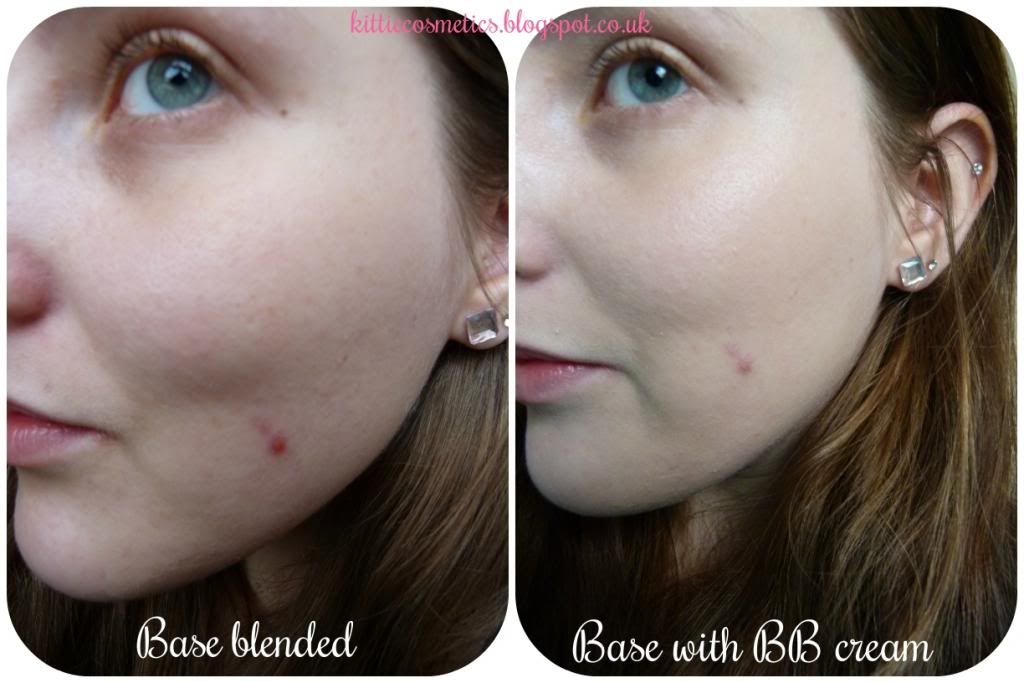 Overview
Colour: Mint!
Scent: A nice fresh scent, kind of soapy and flowery but it doesn't last long if you are fussed about scented products
Texture: Watery at first, but does feel thicker on my face and I don't find it that easy to apply - a bit of pulling of the skin!
Effect on Skin: Skin feels smooth and the base improves the brightening effect of my BB cream.
Negatives: Only a slight improvement on the redness and the cream doesn't glide on that smoothly.
Application:I apply this the same as my BB creams, by patting it on the skin after gently smoothing onto my red areas.
Overall, I think this is a nice product but not one that I would necessarily purchase again.
It does improve my redness slightly, but I still have a lot of redness around my nose. My skin does looks brighter though and my skin tone has evened out a bit, so it's not all that bad! It seems to boost my BB creams' brightening power and it's longevity which is why I will keep using this until I run out.
The product isn't oily or heavy, but I can feel the extra layer of makeup despite it being quite light, and I feel it dries my skin out a bit.
I didn't notice any improvement on my pores but considering this isn't specifically for that, it's not really a problem.
My BB cream has stayed put for over 4 hours now, and my t-zone is still oil free so that's a bonus for me :)
I'll be trying out the Etude house sweet recipe baby choux base next, hopefully it works better for me.
I'd still recommend this product to anyone with or without redness, just over £5 for a more even skin tone and some added brightness, seems like a good deal to me!