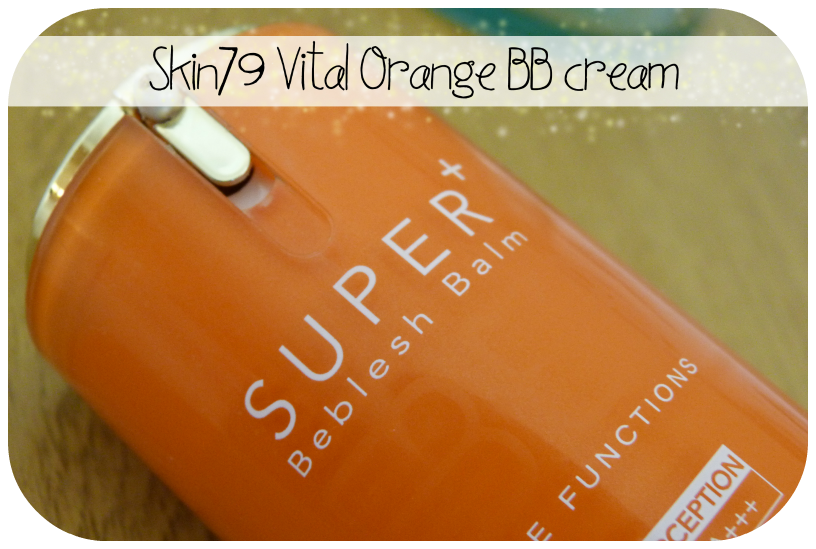 The world is in a BB cream frenzy as you will all know. With so many options from so many fantastic brands, it can be quite daunting trying to choose the perfect one. Cheap, good quality and my personal favorite (up to now!) is the Skin79 Vital orange BB cream. Read more to see what I like about this product!

I thought I would start with a highly blogged about product: The Skin79 Vital Orange BB Cream. As you are all probably aware, BB creams are huge at the moment, replacing the foundations of women (and some men!) all over the world.
BB creams were first formulated in Germany by a dermatologist to protect their patients' skin after surgery, but took off in Korea due to their skin improvement and protection properties.
This is my first Skin79 BB cream and I am building up my collection so that I can test and review them all.
I picked this up for under £10 on eBay - I do love a cosmetic bargain and most Korean cosmetics are delightfully affordable!
I bought the 40g size which feels substantial without feeling like you are carrying a brick in your bag.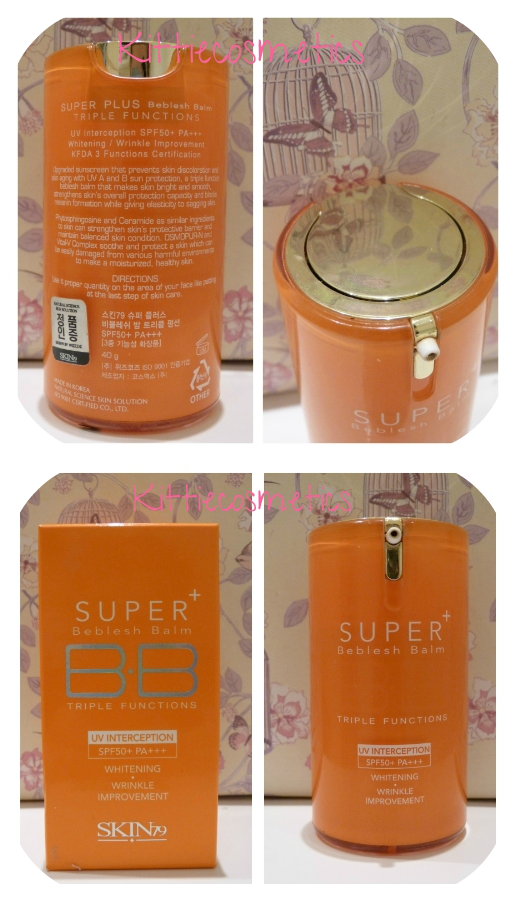 Claims
This BB cream claims to improve skin brightness, improve smoothness, improve wrinkles and prevent discoloration and aging from the suns rays whilst giving elasticity to sagging skin - Sounds like the miracle cream we have all been waiting for!
This cream has SPF50+ PA+++ which wouldn't usually attract me as I never used to bother with sun protection (so naive >.<), but since my skin seems to be in pretty bad shape at the moment this is quite a big plus for me.
I really like the packaging - The container is attractive and seems of high quality which is a contrast to the very affordable price tag. I have used mine a lot and the shiny "B.B" has completely rubbed off the front, but it just looked the same as the label on the box. The gold pump makes easy work of dispensing just the right amount of cream so I'm not wasting and product. Skin79 BB creams have been fraudulently targeted and there are fakes all over the internet - On a genuine product, there is a silver sticker on the back of the container for authenticity.
Here is a swatch of the product on my wrist, and my before/after photos.
The top photo is without the BB cream, and the bottom photo is slightly closer up with the BB cream applied.
Overview
Colour: This cream has a more yellow tone in comparison with they grey tone of the Hot Pink version, a huge improvement as I don't need to wait for this to oxidize to look good (and grey really isn't my colour)
Scent: Fairly strong floral-ish scent, but not unpleasant and becomes unnoticeable after a short while Texture: Thick and creamy
Effect on Skin: Slight dewey finish, looks healthier, reduced redness, more even texture, brighter complexion, reduced pores.
Coverage: Medium coverage, buildable but if I use too much on a bad skin day, it can look cakey, greasy and sits in fine lines. Less is definitely more.
Negatives: Slight colour difference between my face and neck
Application:
I apply my BB cream using my fingers and "pat" it onto my skin until fully blended.

Although it blends well, it is initially sticky so can drag on the skin!
In summary, I would definitely re-purchase this product. It keeps my oily t-zone at bay and coverage lasts about 4 hours (w/o powder)
My skin feels more hydrated throughout the day but it can make me break out occasionally if I have ignored my own advice and slather on too much!
On bare skin with no preparation, this clings to dry spots and emphasizes lines and imperfections so I would advise to prepare the skin and use a primer.

I haven't noticed any other effects such as wrinkle or elasticity improvement, but these aren't issues I have to worry about yet, and hopefully not for a while if this cream lives up to its promises :P
RATING: 4/5
I have a few more BB creams on order so will get some reviews up as soon as I can give them a go!
Have any of you tried this BB cream? I've heard a few negative reviews about this cream in regards to workability and coverage - Tell me about your experiences with the product!