Hey everyone :)
I'm currently off work with a stomach bug and feel like absolute rubbish, but I have been cheered up mentally by today's delivery yay!
Let's see what I got...

I don't think I have ever mentioned this, but I refuse to buy my products from Gmarket. I LOVE the convenience and the sheer volume and choice of product, but cannot justify paying the shipping costs - for what you pay in shipping, you could probably double your haul.
I prefer to use eBay for my purchases, but the downside is that you can't get everything you want from the same seller, so have to wait for multiple deliveries from different shops. Due to the money saving benefits of this I don't really mind waiting in, and I love receiving multiple packages throughout the month which gives me little boosts of excitement especially if I've had a crappy day.
So this is the first part of my expected items :)
I've not opened any of them yet but I can hardly contain myself!!
I have had a peek inside the Mizon ampoule and I can tell you I am pleasantly surprised, the ampoule is really big, I expected a teeny tiny jar!
But anyway, I'll be doing full reviews on each of these products in the near future, but won't start using the skincare products until I get my wonder pore freshener, which will hopefully arrive in the next week!
I also got a selection of samples which I'm really happy with actually, have a nosey for yourself!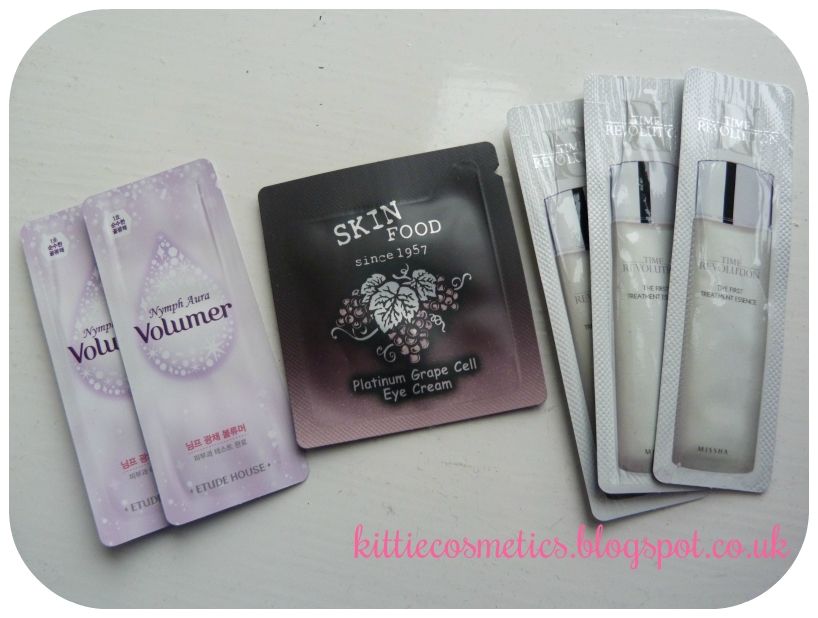 So so happy with these samples, they're either great samples or I'm easily impressed....could be a bit of both.
The seller sent me 2x Etude House Nymph Aura samples, which is fab as I have the full sized product waiting in my eBay basket - so at least I can try before I buy.
Next is the Platinum Grape Cell eye cream by Skin Food. Now I was looking at their Platinum Grape Cell products when I was deciding on my new skincare routine and I've not found an eye cream that I want yet so this could maybe persuade me!
The last sample is the Missha time revolution first essence. I don't have a first essence in my routine and this product full size is over £20 so a bit on the pricey side if you were to get the full kit! If I like it then I will consider adding it to my routine, or looking for another one which is more suited to my skin type.
So that's it, small but sweet!
I'll do a review on the TonlyMoly mint base tomorrow so keep a look out
Bye for now!