Hi girlies! Back with another CC cream review. After the success of my first CC cream experience, I wanted to try more and more, and was uber excited to try out this one by Elisha Coy. Read my review after the jump :)
If you have read my review on the TonyMoly Luminous bright aura CC cream, you'll know how fond I've become of them and love to use them in conjunction with my BB creams!
I decided to get my next CC cream from a brand I haven't used before. A lot of Elisha Coy products are just a little over my normal budget range and to me seemed to be marketed towards more mature women, and by mature I mean 25+, not old, which is why I never really went for anything from this brand!
I was kindly sent this by my sponsor *Jolse, aka Iamloveshop*, and received within 2 weeks. I have been using it daily for approx 2 weeks, so I could note any changes to my skin.
The thing that swayed me to try this brand was the high quality products they offer, and the use of natural and Eco-certified ingredients.
It comes in a 50g tube, and the price is approximately £16.00 ($25.92), and for 50g isn't too bad, a bit more than I would usually spend though!
❤ Black Bean extract - aids in production of red blood cells, helps retain moisture and suppleness
❤ Olive leaf extract

- antioxidant / antibacterial / anti-inflammatory
❤

Parkii butter - moisturising
❤ Avocado oil -

deep skin penetrating ability, relief for dry skin
❤

Jojoba extract - moisturising
❤ Bitter orange flower water
❤

Equisetum Arvense extract (horsetail) - anti ageing/wrinkle
❤

Baobab seed extract - Helps fight ageing
You can find the full list of ingredients online.
❤ 10 in 1 multi cream
❤ Whitening/anti wrinkle/UV protection, hydration, correcting skin texture, correcting skin tone, covering imperfection, long-lasting, excellent application, making skin look instantly refreshed
❤Colour capsules in white water base pop, covering imperfection and correcting skin tone evenly, and makes skin look smooth and radiant
❤ 20 moisturising ingredients
❤ Combination of powder mixture and hydrating ingredients

covers blemish prone-skin
The above information is taken from the packaging and online
There are a lot of moisturising ingredients contained in this product! As you may know, I have combination to very oily skin, so this seems an odd product for me to choose, but I still need moisture to help with the dry patches on my forehead caused by my oil controlling products...It's hard to balance these things you know :P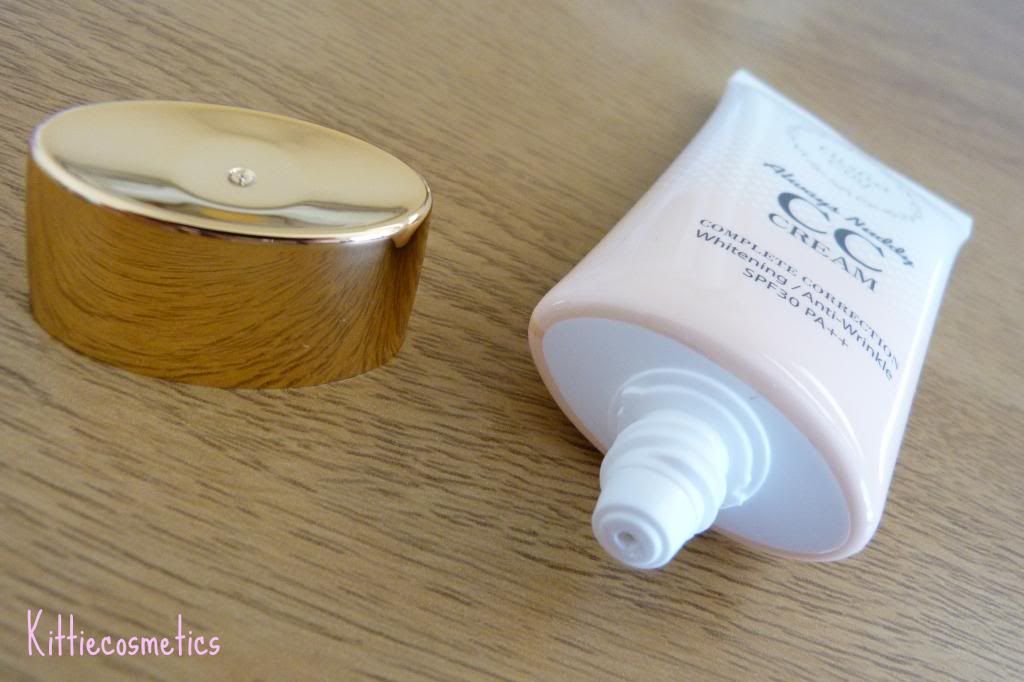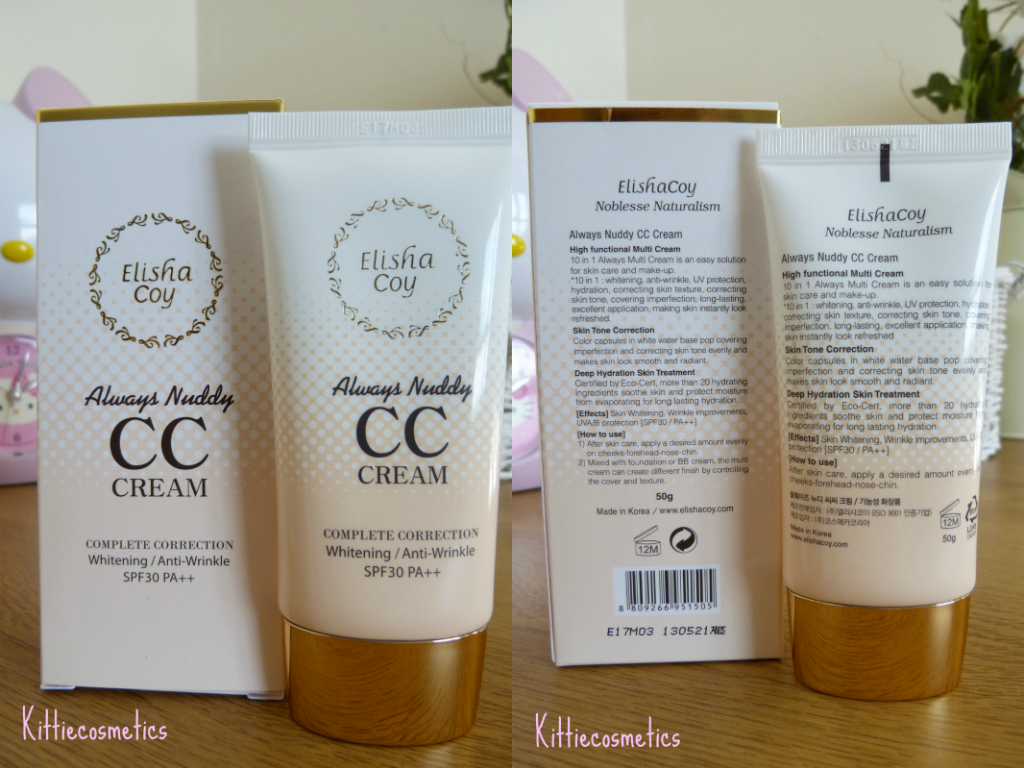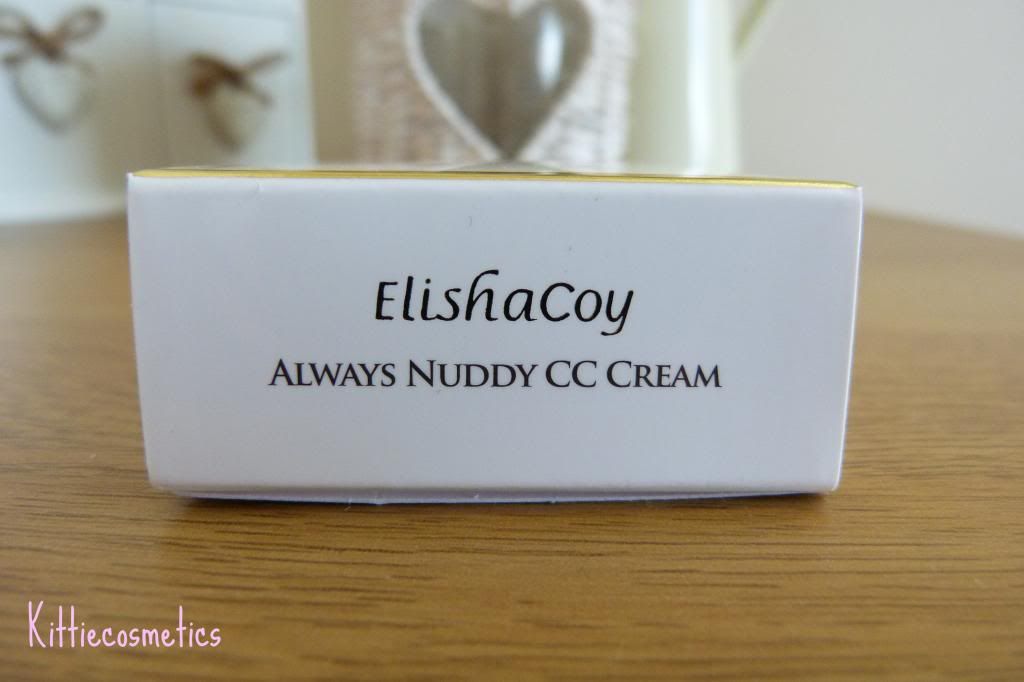 Packaging
The packaging is one of the things that made me think this product was for a more mature market. It doesn't have anything particularly cute on it and I wouldn't say it is the most eye catching either - but saying that, it doesn't bother me. I think the product still looks quite pretty, and I like the gradient effect used on the box and tube, which reflects the colour change of the CC cream. It looks nice and girly, and pretty expensive with the help of the gold on the box and the shiny gold lid. Gold = expensive...oooh shiney!
This will sit with my 'serious' products on my dresser haha.
It has a basic nozzle and the tube is nice and soft, so I can't see there being any issues getting all of the product out when I'm running out. Thumbs up.
Bit disappointed that there was no foil safety seal though, but no biggie.
All the information on the back is in English.
Product swatch
This CC cream is white, with colour changing beads which pop and adjust to you skin tone. Looking at the product adverts and the box, you would think the colour change would be obvious to the eye....but it really isn't, well not to me anyway. You can clearly see the beads in the first photo, but I don't see the colour change until it is completely blended. The cream is quite runny, but doesn't drip and has pretty good adhesion to the skin, and I find it blends nice and smoothly over my skin without tugging or drying. I didn't take a photo as I totally forgot, but if you wipe this off with a cotton pad or a facial wipe, the colour is beige, so you can see that the capsules have burst.
I mentioned in my last review I was ambushed by an allergy to something which left me with a bout of red bumps and some acne, and although it's improved tremendously, you can still see it, which I guess is a good thing so you can see the level of coverage :)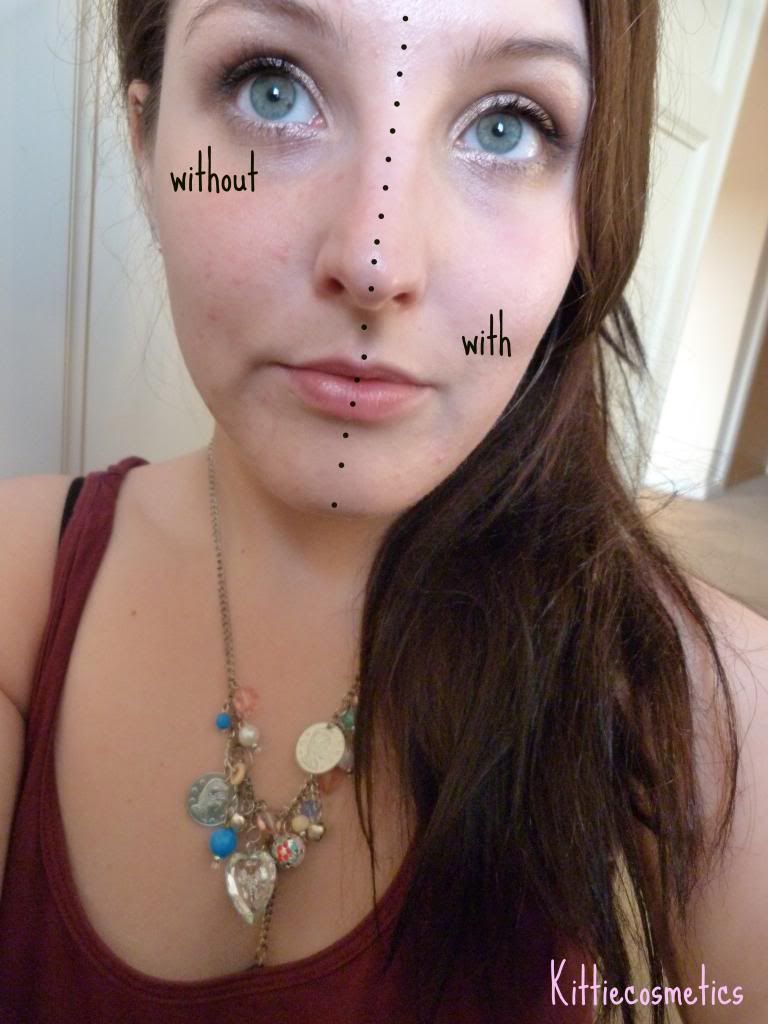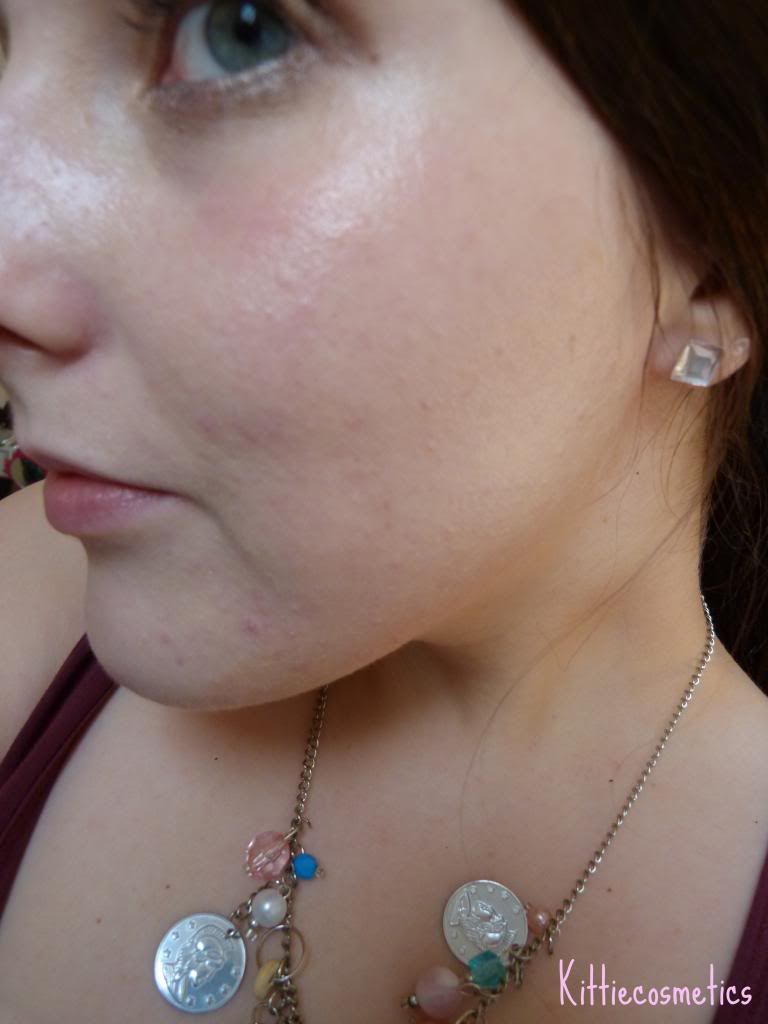 I applied this with my trusty blending sponge, with no primer, no base, and no setting powder or spray. This covers redness really well and I am super pleased with this considering some of my BB creams don't cover redness as well at this. There is also a significance in the brightness of my skin so I look less 'dead', but you can see a lot of shine on the last photo....booo go home shine!!
Overview
Colour:
White with little colour bursting beads
Scent:
Hardly anything, I couldn't even say.
Effect on skin:
Significant brightening, redness reduced, skin tone evened out
Negatives:
Too shiny
Application:
Dot over face and dab with blending sponge
Another success! Not perfect, but still great. It gives my skin a natural and glowy finish, and really brightens dull and tired skin. I have found it can be easy to apply too much of this though...ghost is not a fashionable look right now....
Coverage is medium for a CC cream, and it doesn't cake or cling to dry patches.
The longevity of this product is decent too, maybe 3 hours with no makeup finisher, and this would obviously be improved with a primer and a setting product.
My only gripe is the shinyness, it makes my face look a bit greasy, but it feels OK and pretty light. You can definitely notice the effects of the moisturising ingredients, as my face feels lovely and hydrated.
I would definitely recommend this to those of you with dry skin, but it works surprisingly well for my oily skin without breaking me out at all, and you can always use a matte makeup finisher or blotting paper.
This also has a good level of sun protection which I think is a necessity, especially if you plan to wear this alone
Rating: 4/5
I really like this, and if I can't find a CC cream as good for cheaper, then I would definitely purchase this myself - I can really feel the quality of this product!

Have you tried any products by Elisha Coy? Do you prefer CC cream to BB cream?
You can purchase this direct from Jolse.com by clicking the image below