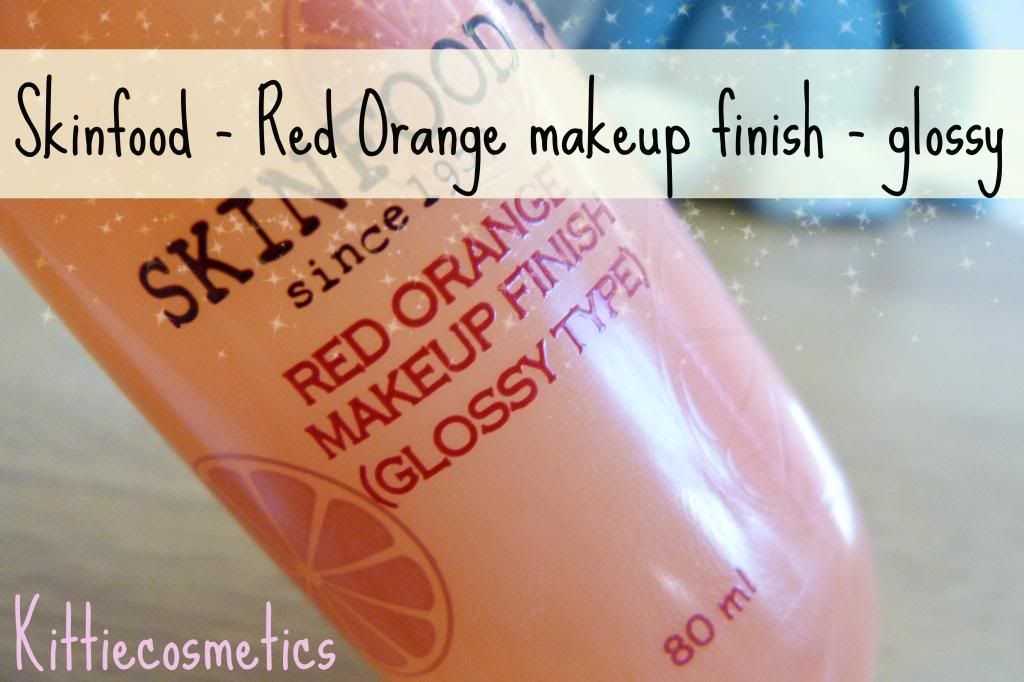 I'm on a constant hunt for a perfect makeup fixer, one that keeps my makeup from sliding off my oily face but doesn't make it go all cakey and dry! I'm not the biggest fan of powders so decided to try a nice little mist instead. Does it work?.....read my review after the jump :) (long post!)
Long delay with posts again I'm sorry. I've been on late shifts at work and I've took up spinning which tires me out so much! But I'm back with a cleaner looking blog, new pic/posting style and a face full of little itchy bumps and spots caused by an unidentifiable allergic reaction to something :/
Onto the review, enough chatter!! As mentioned above, I'm not a lover of powders to set my makeup. I'm not sure if it's just the wrong product for my skin, my application skills or just the quality, but every one that I have tried has caked up my makeup around my mouth/chin area, and especially on my forehead. This unfortunately highlights my really annoying expression lines. I call them that, because I'm too young for wrinkles (denial I know *sad face*)
To be fair, it's probably just my skills but instead of improving because I'm lazy, I'd rather just try something else, and a mist seems a really quick and simple addition to my routine.
So this was from eBay for approximately £7 (80ml), which seemed a nice price to me! After having a look around, prices were very similar across the board and this was the cheapest. It is also lasting me a long time so definitely worth the money, I've had it for about 3 months and not half way through yet and I'm using almost every day.
You can also pick this up with a matte finish for those who prefer that :)
Ingredients to mention
❤Orange fruit extract
❤Lemon fruit extract
❤Kiwi fruit extract
❤Strawberry fruit extract
❤ No signs of alcohol so great if you are sensitive to that
Features / Claims
(taken from iamlove-shop eBay)
❤ Give smooth and natural gloss to face with a combination of skin revitalising extracts from orange and skin-friendly low viscosity oil, forming a dewy finish on your skin
❤ Mild bleaching properties from oranges which helps to reduce appearance of sunburn, blemishes and dark spots
❤ Acts as a gently astringent which helps to relieve acne prone skin

I went for the glossy type because I prefer a dewy finish over a matte finish. Although my skin is oily, I don't want to dry it out completely and a little moisture is greatly appreciated.
This product also caught my eye because it is meant to help with acne prone skin. Glossy makeup + AC control = win :)


Packaging
I'm liking the packaging for this product. It's nothing special but fits the bill. It is quite a small bottle but fits neatly in your hands, with a simple spray nozzle and transparent orange cap. The colour is nice and bright with little oranges on the front of the bottle. No prizes for guessing what the main ingredient is :P It is made from quite thick plastic, and without being adorably cute, it still has a certain cuteness factor and brightens up my dressing table.


Product Swatch

I found this so hard to photograph! You can see a slight brightness and a bit more of a healthy sheen I guess. For people who like glossy skin but are unsure on whether this product will make you shine in a bad way, you can see how little shine/oil is visible on the skin. I certainly wouldn't worry about looking like a greasy mess! This is with 2 pumps from max distance. If you spray this up closer, you will get a more dewy finish. You have to shake this product to mix the oil together with all the other stuffs before you spray, and the mist comes out fine and not like huge droplets (unless you press the pump really slow!)


Does it work?


So here is a before and after photo. See the miserable face before work, and the happy face when I've finished haha! Please excuse the bumps from my reaction.


The time between the two photos is about 10 hours. You can see on the first photo that my cheeks have a mild but healthy glow to them, and I don't look oily at all. After 10 hours, a good amount of my makeup is still on my face woohoo! I'm slightly shiny after work but I think most of the oiliness was controlled. There is still remnants of my cream blush which barely lasts 10 minutes normally, and my mascara didn't need a touch up at all which I didn't expect.

So....the answer is yes, this does work, and does exactly what it says on the tin.
Overview
Colour: Clear I think! The bottle kind of hides it.
Scent: Fruity!!! Not the sweetest smell, smells a bit like orange vitamin drink if anyone has ever tried it.
Effect on Skin: Nice healthy glow, keeps makeup on my face!! Refreshing.
Negatives: None :)

I've never tried a skinfood product before, but have seen some really great reviews on their masks and scrubs. Instead of buying a mask or scrub I went for something that I haven't actually seen a review on. Makes sense.

I'm glad I bought this though because it really does help my makeup. I sit in an office all day where people are constantly changing the temperature with the air con and normally I look cakey and really oily by the time I get home. I like to keep this in the fridge and it is so lovely and refreshing especially on hot days. I also like to use this on my face if I'm having a no makeup day, to help freshen up my skin and add a light layer of moisture.
It isn't heavy on the skin if you follow the instructions and spray from about 1 foot away, but spraying too much can dislodge makeup and make you look very shiny.
It didn't stop all my makeup from disappearing, but it did a nice job considering no primer was used, and beats any powders I've tried. I didn't think I would like this product so much, but it has been a pleasant surprise :)

RATING: 4.5/5
Will definitely re-purchase. I would recommend to anyone who likes a dewy finish, but would say if you are still unsure, go for the matte finish so you get the same great effects, but with added sebum control powder!
Do you prefer powder or a spray fixer? Have you found the perfect fixer to keep your makeup in place all day?



You can purchase this from the iamlove-shop eBay store, or directly from the Jolse website by clicking on the image below. The product is only £6.30 on Jolse.com - bargain!